Residential Entrance Signs
This small driveway marker was commissioned by the owner of a summer home at, "you guessed it" Angel Lake. The blended background reflected the lake and forest in the surrounding area. The whimsical, three-dimensional carving of the angel reflected the personality of the customer.
Residential driveway signs are important particularly in country settings where the homes are often obscured by heavy foliage. And, they make a statement about the owners. Strata provides the same diligence and care to every sign we make, regardless of size and cost.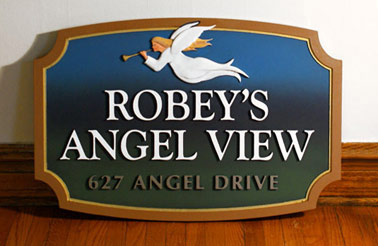 Residential Entrance Signs
Robey's Angel View
3' x 2' Carved HDU
Call us at 1-312-685-7446
7 Days a week 9 am - 8pm
or email us at exteriorsigns@gmail.com