Exterior Monument Signs
The exterior monument sign shown here is quite unusual in that it is a hanging sign. The elaborate cedar timber and stone block construction was prebuilt to hold the high density urethane signage.
The entire assembly was installed along the main highway leading into the Rancho Sonora Inn & RV Park. Included in the order was a freestanding portable unit similar in design to the hanging sign shown. Eight named employee parking signs and several wall mounted office signs completed the project.
Strata developed the logo using an ancient Native American sun symbol, which the owner of the resort decided to further use in print promotional material for the resort.
All Strata signs are custom designed to meet your specific needs.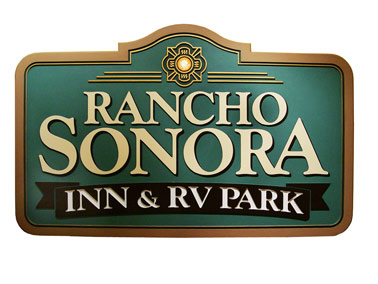 City Monument Signs
Rancho Sonora
10' x 5' , 1-1/2" thick HDU
Call us at 1-312-685-7446
7 Days a week 9 am - 8pm
or email us at exteriorsigns@gmail.com