Street Welcome Signs
These street signs were carefully constructed to ensure several decades of service life. Strata recommended the use of HDU for this community located near the coast in Southern California, where high heat and humidity are the norm. Each of these 48 street signs had 1-1/2" MDF laminated to the backs for extra strength and rigidity. These marker signs are a definite upgrade to the ordinary stamped metal units found in most communities.
Street number ranges were added above the street names to aid visitors in finding specific homes in this subdivision with its winding roadways. The signage incorporated a decorative molded border with a simulated wood grain background at the customers request. The wood graining technique renders HDU with the look of a traditional wood sign, with the added advantage of a deeper cut for a more 3-dimensional appearance, and the extended service life of HDU.
A street sign was installed at each intersection by means of two 4" X 4" cedar posts that were sealed to preserve the fresh cedar appearance. Strata offers substantial discounts on multi-unit orders such as this.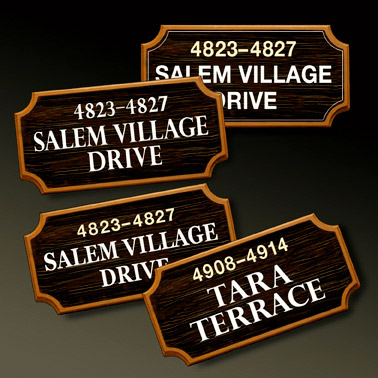 City Street Signs
Street signs consisting of 48 units, 1" thick HDU
24" X 12" with 1/2" reinforced backs