Wooden Street Address Signs
These upright street signs were replacements for an upscale midwest community. Original units were becoming dry rotted and weather beaten.
The previously installed street address signs were constructed of lap jointed pine boards and painted. This material is not suitable for outdoor use. Strata used clear western cedar with splined and mitered joints as shown in the diagram. A 4" X 4" treated lumber stub was inserted at the bottom for installation below grade.
Several coats of light cedar stain were used to preserve the natural color of the wood. An additional two coats of clear finish was applied afterwards to ensure a service life of up to 15 years. The life span can be further extended by periodic restaining.
Strata produces many types of street address signs, from steel or wood pole mounted, those affixed to street lights, free standing or any other custom application you may desire in either wood or composite. Additionally, you can order your address signs with a glass beaded reflective coating on the text to enhance night time visibility. Quantity discounts apply.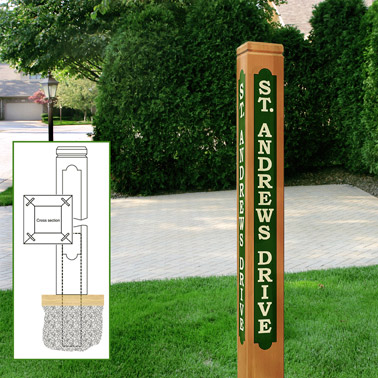 Customized Wooden Signs
Street Address Signs
Western red cedar square tube construction using
mitered 10' X 12' , 1-1/2" thick clear cedar,
a 2' stub below grade encased in Sakrete
allows for a stable installation