Private Property Park Signage
Private property signs for this ocean front community in South Florida alerted trespassers that its recreational facilities were reserved for residents only.
The private property signs were placed at several locations leading to the beach area. In communities that are located in areas of mixed public and private use, the name of the development can be omitted. They can be no swimming signs, no fishing signs, and no camping signs. In short, Strata will include all the restrictions listed above on your sign if deemed necessary.
More often than not, property signs are ordered in multiples to be placed in several strategic locations. Strata offers generous discounts for orders consisting of several units of similar size and content.
The south Florida location dictated the use of HDU as a substrate. High Density Urethane is completely weather proof and stable under the most severe climate conditions, thus ensuring decades of maintenance free service life. Because this material is inert, surface coatings remain intact for an extended period of time.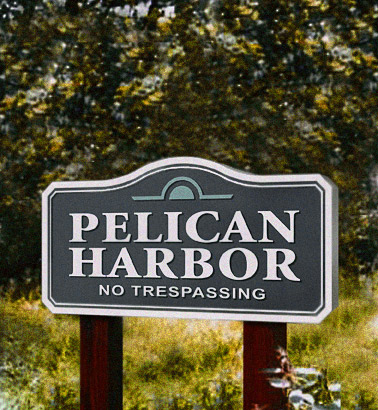 No Trespassing Park Signage
Pelican Harbor
10'0" X 4'6" Double-sided sandblasted and
painted with 6"X 6" timber posts

Call us at 1-312-685-7446
7 Days a week 9 am - 8pm
or email us at exteriorsigns@gmail.com