Outdoor Entrance Signs
The Center for Courageous Kids is a non-profit medical camping facility located in Kentucky. Treatment for both mind and body of children with life-threatening illnesses is offered. A gray stone edifice was constructed at the main entrance to greet patients and their families.
The client wanted a rural look, in keeping with the rough, gray stonework in the construction as well as the country setting of the facility.
Signs of this scale, incorporating prebuilt masonry are usually referred to as monument signs. Strata offers a wide range of custom signage for all sorts of professionals, including doctors, dentists, chiropractors, and physical therapists to name a few.
HDU (High Density Urethane) was the material of choice for this particular application. HDU can virtually last a lifetime and is totally weatherproof under any climate condition. Other features include deeper cutting for a more dimensional look. And since the material is inert, paint life is extended dramatically.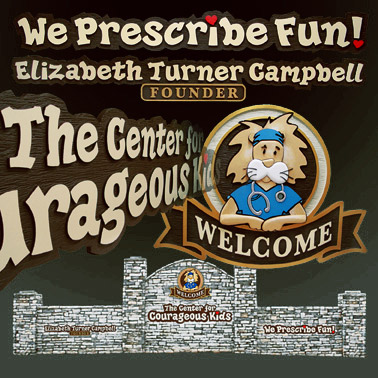 Outdoor Entrance Signs
Center for Courageous Kids
5' X 5' multi-layered and carved HDU
Main title, 10' X 2' with wood grained outlined text in HDU
Side text panels 8' X 20" in HDU
Call us at 1-312-685-7446
7 Days a week 9 am - 8pm
or email us at exteriorsigns@gmail.com