Private Entrance Signs
These five small signs are affixed to wrought iron fencing encircling a gated community. They provide pertinent information to autos entering and leaving the subdivision. The simple design and color work well against the black fencing. This type of signage is easily mounted by utilizing electrical conduit clips that are painted black.
The community is based in Savanah, Georgia were HDU can withstand high humidity and summer heat. HDU also has the advantage of extended paint life due to its inert nature and, there is no worry over insect infestation.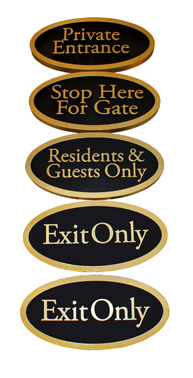 Private Entrance Signs
Gate, Exit Only, Stop Signage
5 Signs, 24" x 12", routed HDU


Call us at 1-312-685-7446
7 Days a week 9 am - 8pm
or email us at exteriorsigns@gmail.com