This rehab center and retreat serving Native Americans is located in Chicago. The compound is situated in a densely wooded area which necessitated directional signs. The medical signs were installed at strategic locations to allow members easy access.
The carved wolf logo was incorporated in the main entrance sign to carry the theme used in all the promotional material. Various installation methods were used in these directional signs depending on their location within the compound.
Medical signs and directional signs take the confusion encountered by patients in locating a specific physician or dentist within a large complex.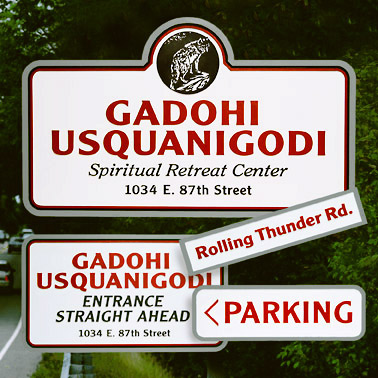 Parking and Directional Signs
Gadohi Usquanigodi
1-1/2" HDU, all single sided, fully reinforced backing
Main unit 7' X 4'
Smaller unit 3' X 2-1/2"
Address sign and parking
30" X 8", 30" X 12" respectively

Call us at 1-312-685-7446
7 Days a week 9 am - 8pm
or email us at exteriorsigns@gmail.com