Community Entrance Signage
This multi-unit rental complex located in Northern Illinois needed entrance signage to guide residents and visitors to its parking facility. The community wanted the design to incorporate the look of redwood, which was used extensively in the construction of the decks and trim in the buildings.
HDU was indicated for its stable and maintenance free qualities. Strata accomplished the redwood look by simulating the wood grain effect through hand tooling and using multiple shades of paint. HDU signs are indistinguishable from sandblasted wood signs when properly finished.
Another criteria was that the entrance sign be a hanging oval shape, but be rigidly mounted. This is easily accomplished with the use of two end posts with a top cross piece. After installation, lag screws are inserted through the outside of the posts into the sides of sign, providing a rigid mounting.
Subdivision entrance signs can be provided as simple hanging signs supported by two cantilevered posts when rigid mounting is not required.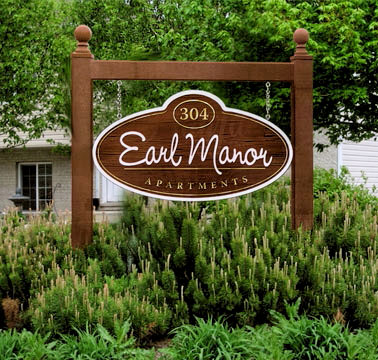 Community Entrance Signage
Earl Manor Apartments
5' X 3' single-sided 2" thick HDU
Call us at 1-312-685-7446
7 Days a week 9 am - 8pm
or email us at exteriorsigns@gmail.com