Community entrance signs
Double-sided subdivision signs were commissioned by the developer of this upscale community situated in Arkansas. Metallic gold paint used on the floral motif and inline provided an extra bit of elegance. The subtle scrollwork interwoven into the main title giving the name of this subdivision added distinction.
HDU is the material of choice for southern states and tropical climates where prevailing high humidity and heat can cause wooden signs to deteriorate in short order.
These freestanding subdivision signs were deeply carved for a dramatic presentation, while the subtle color scheme creates a rich and harmonious look to the installation site.
Subdivision signs can be configured in various types of installation requirements. They can be hanging, monuments, post mounted, or whatever type of installation fits your specific needs. Strata will help you make this determination.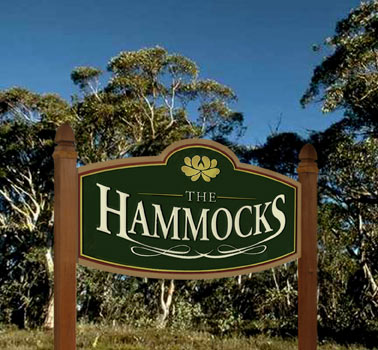 Community Entrance Signs
Hammocks
7' X 3' Double-sided 3" thick HDU
Call us at 1-312-685-7446
7 Days a week 9 am - 8pm
or email us at exteriorsigns@gmail.com