Subdivision Sign Designs
New and highly creative subdivision entrance signs are a great sales tool for community developers. Enhancing the well-manicured landscaping and brickwork at the subdivision's roadside entrance, these excellent signs provided a great deal of interest to passing motorists. The stylized tree images in the builder's logo, along with the muted color scheme added the right touch of elegance to the presentation.
Subtle changes such as new signage can make a tremendous difference to your subdivision's salability and livability.
Two identical subdivision entrance signs were provided to the developer of this exclusive community located in Western Pennsylvania. Signs were mounted back to back on a preconstructed red brick monument.
HDU was used for a maintenance free installation. The dark brown background features a simulated wood grain to resemble sandblasted cedar. HDU is virtually indistinguishable from real wood after painting, while offering superior stability and extended service life.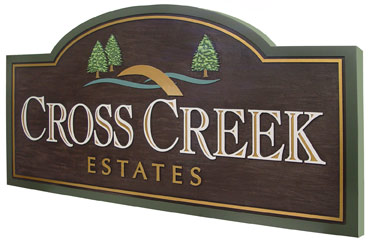 Subdivision Sign Designs
Cross Creek Estates
Two single-sided signs
8' X 4' with reinforced backs
Hardware was included in shipment
Call us at 1-312-685-7446
7 Days a week 9 am - 8pm
or email us at exteriorsigns@gmail.com